French brasserie-inspired restaurant Chez Lionel opens its doors in Brossard
 French cuisine lovers, rejoice! Solar Uniquartier welcomes the fourth branch of Chez Lionel, a restaurant that has long built a reputation as one of the finest dining spots in Montreal's South Shore!
A gourmet restaurant headed by Michelin-starred chef Frédéric Dufort 
A two-time contestant on the popular TV show Les Chefs!, Frédéric Dufort has been managing Chez Lionel's kitchen since 2013, bringing a welcome creativity to every dish! With flavours that transport you to the finest French brasseries, Chez Lionel offers a refined but unpretentious culinary experience. Dufort uses ingredients of the highest quality, and it shows! Since his mother had worked for the Union des producteurs agricoles, the chef learned at a very young age about the importance of selecting ingredients carefully, and his experience at the Michelin-starred Benu restaurant in San Francisco enables him to create rich and original dishes that delight the taste buds of all customers.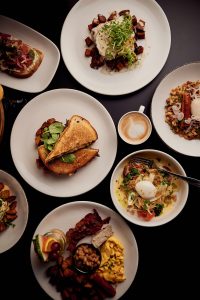 A creative and diverse menu 
When we think of fine dining, the first thing that comes to mind is the unequalled experience of French cuisine. And that is exactly what you'll find at Chez Lionel, whose menu features the most renowned dishes from famous Parisian brasseries. Tartares, veal sweetbread confit, torchon-style foie gras, braised beef cheek—the restaurant will take you on a culinary journey in the heart of the City of Light!
Do you prefer Canadian classics? Then you'll want to try the Appalachian deer medallion, the Prince Edward Island Tomahawk, or the scrumptious cheeseburger with Saint-Benoît cheese.
And since no refined meal is complete without a delicious drink, Chez Lionel offers a wide selection of privately imported wines as well as creative signature cocktails!
On the weekend, enjoy a hearty brunch with your family, friends, or as a couple.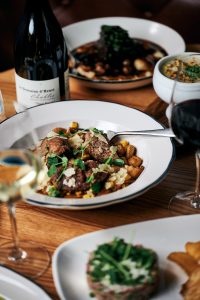 Chez Lionel, the new French brasserie classic at Solar Uniquartier, Brossard
Open Monday to Friday, from 11:30 a.m. to 11:30 p.m., Saturday, from 9 a.m. to 11 p.m., and Sunday, from 9 a.m. to 10 p.m. Don't forget to reserve your table! Want to take the Chez Lionel experience home? The restaurant offers a takeout service!
Chez Lionel
90 Place de l'Éclipse, Brossard