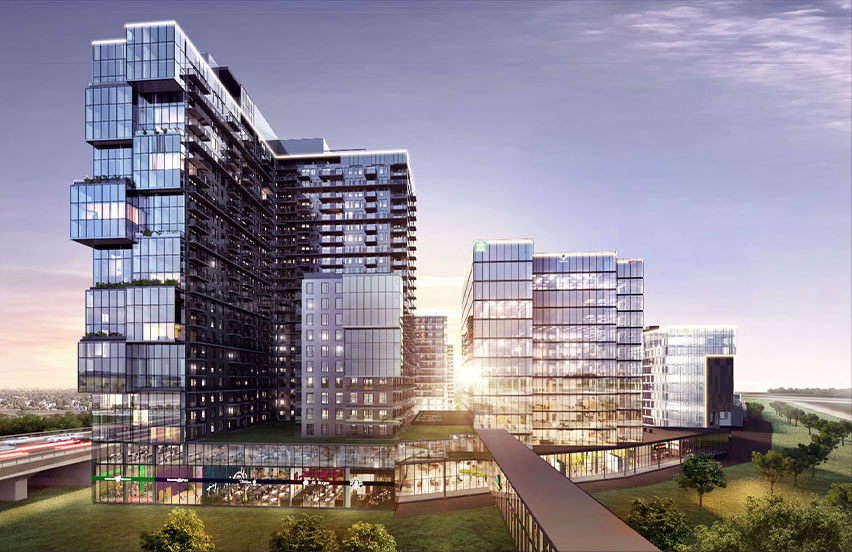 Parking
A vast accessible parking lot
Solar Uniquartier offers a vast parking lot for residents, workers, and visitors, managed by the innovative Q-FREE system which indicates the number of parking spaces available in real time and directs users to those spaces.
Parking fees
The following are the details of the current pricing:
From Monday at 6 a.m. to Friday at 5 p.m.
FREE – 3 hours max.
$10 – per additional hour
$25 – more than 5 hours (24 h max.)
Friday from 5 p.m., weekends and holidays
FREE – 7 hours max.
$10 – more than 7 hours (24 h max.)
Customers of participating businesses and hotel guests
FREE at all times.
Chez Lionel Brasserie Française
Hôtel – Courtyard by Marriott
IRU Izakaya
Les Enfants Terribles
La Cage – brasserie sportive
Université de Montréal
Vertigo
If the establishment you are visiting is not on this list, please contact them directly.
See details below.
Payment by card only. Cash is not accepted.
Instructions
On your arrival, take a ticket at the entry terminal. Please keep your ticket until you leave.
Two options are available at the exit: payment stations and exit terminals.
Upon exiting the parking lot, make your payment by scanning your voucher at one of the payment stations near the elevators, or directly at the exit terminals.
Participating businesses and the hotel will provide customers and guests with a parking voucher, giving them free access to the parking lot.
At the payment stations, scan the regular white ticket, then the yellow voucher.
At the exit terminal, scan the yellow voucher, then the white ticket.
Transportation
REM
Solar Uniquartier will provide direct access to the REM station.
The Du Quartier station, whose commissioning is targeted for spring 2023, will enable passengers to travel to downtown Montreal's Gare Centrale station in 16 minutes.
Additionally, the REM will be in service 20 hours a day, 7 days a week, with departures every 2 minutes and 30 seconds during peak hours, then every 5 minutes during off-peak periods.
Starting in 2024, the REM will provide a connection to Montreal airport, thus facilitating travel.
The station's services will include:
Universal accessibility to the REM station's platforms via elevators
74 free parking spaces for bicycles, 40 of which are covered
Paratransit drop-off area
Weather-protected area
Bicycles
Solar Uniquartier is served by an excellent bicycle network, allowing you to travel safely.
View the network map provided by the Ville de Brossard.
The neighbourhood also offers 74 bicycle parking spaces for cyclists travelling via Solar Uniquartier.
Furthermore, Solar Uniquartier offers cyclists access to 50 bike racks, which will be in proximity to the SS1 underground parking lot in a heated, weather-protected area.
On foot
Solar Uniquartier is located at the intersection of highways 10 and 30 as well as Du Quartier and Lapinière boulevards. Lapinière and Leduc boulevards are connected by a walkway over highway 10, allowing access to Solar Uniquartier.
Train
exo's commuter train service stops at Panama, the REM's terminal station on the South Shore. From there, you can take the REM or bus to get to Solar Uniquartier in less than 15 minutes.
Car
Solar Uniquartier is located at the intersection of Du Quartier and Lapinière boulevards as well as highways 10 and 30, allowing for easy access from Montreal (via the Champlain Bridge) and the South Shore.
We hope this information will facilitate your travel experience, and we are pleased to welcome you to Solar Uniquartier. Enjoy your visit!
If you have any questions, please do not hesitate to contact us by email at stationnementsolar1@devimco.com or by phone at