Solar Uniquartier
a spectacular living environment
The most important forward-looking neighbourhood in Quebec
Innovation, creativity, and the desire to contribute to a better future; these are the core values that inspired Solar Uniquartier. A grandiose, people-friendly environment, conceived and designed to enhance the art of living, working and playing better – today and for generations to come.
Comprised of unique housing complexes (for purchase and rent), multiple local shops, innovative business offices and vast green spaces, Solar Uniquartier is emerging as a major attraction on the South Shore of Montreal.
1.5 billion avant-garde real estate development

Over 500,000 sq. ft. of commercial space

Over 600,000 sq. ft. of office space, representing more than 5,000 workers

184 hotel rooms and a conference centre capacity of 800

Over 4,300 residential units representing more than 6,450 residents

Ample parking spaces and charging stations for electric vehicles

Thousands of REM passengers daily. Brossard to Montreal in 15 minutes.

Strategic location on the South Shore, at the intersection of Highways 10 and 30
People at the heart of an active transportation network
Directly connected to the REM station, Solar Uniquartier provides privileged access to the city in just a few minutes. Surrounded by bike paths and favouring a pedestrian-friendly design and outstanding accessibility, the project is strategically located near the Chevrier bus terminus terminal, the Quartier Viaduct and at the intersection of Highways 10 and 30.
A sustainable vision for the future
Solar Uniquartier is redefining current trends and tomorrow's innovations by drawing on the best environmental, energy-efficient, social and economic practices throughout its development.
LEED buildings
Green roofs
Tree-lined streets
Rainwater harvesting
LED lighting
Charging stations for electric vehicles
Use of recycled materials
Proactive management of surplus food from onsite shops and restaurants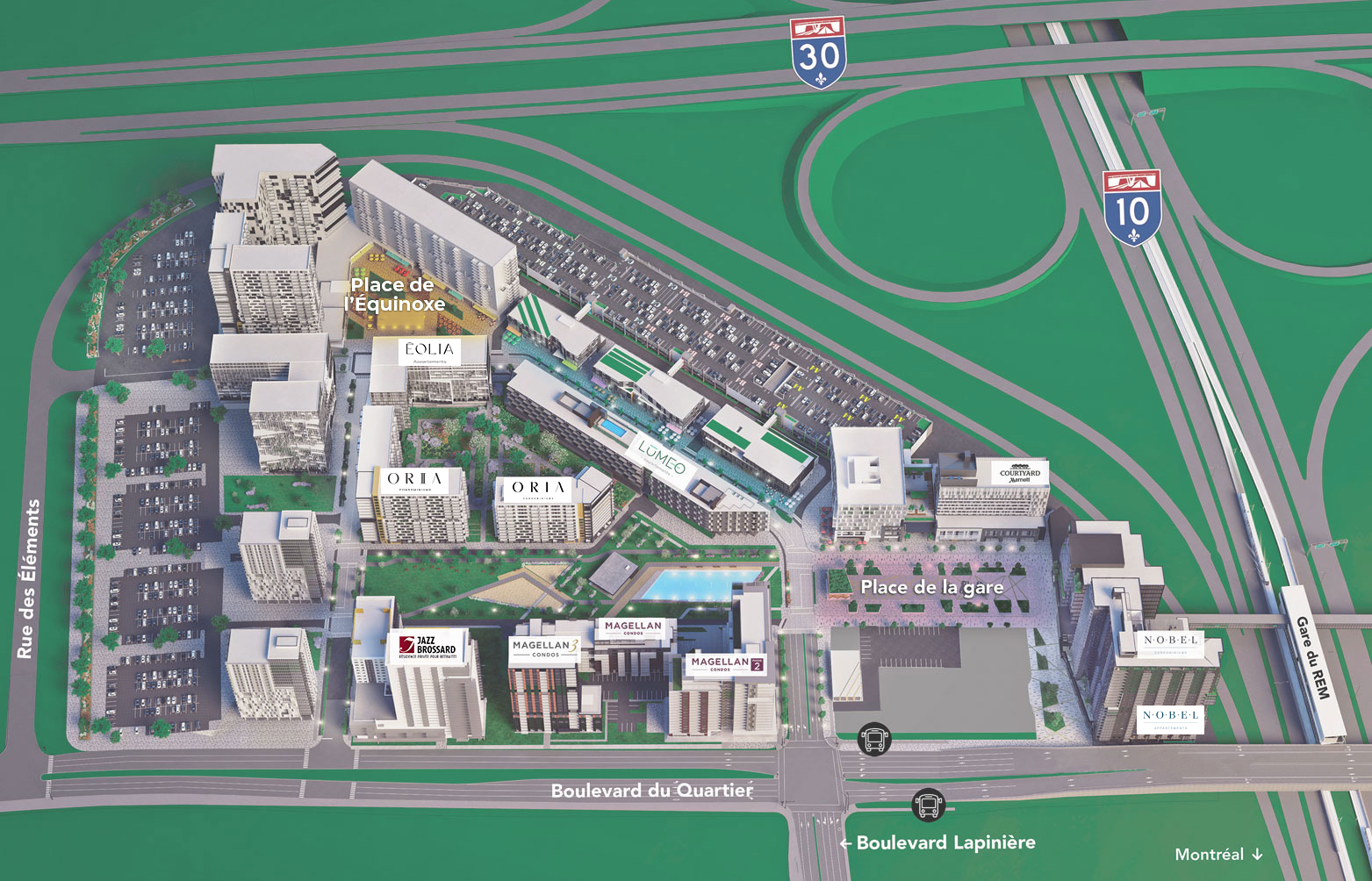 This error message is only visible to WordPress admins
Erreur : le compte connecté de l'utilisateur solar_uniquartier n'est pas autorisé à utiliser ce type de flux.