ORBEAT: gastronomy and entertainment in the heart of Solar Uniquartier
2nd edition of the public market
From June 27 to September 19 2021
Sunday from 10 am to 2 pm
Dream in colours and in flavours
From animated Place de la Gare and verdant Avenue de l'Équinoxe, to Espace Explora and its vibrant Halle Gourmande, ORBEAT brings together the pioneers of gastronomy and the art of living in Solar Uniquartier's remarkable spaces.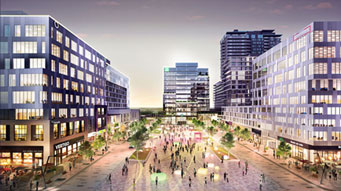 Place de la Gare
the arrival and departure point
Place de la Gare is the quintessential gathering place in the neighbourhood, where shows, street entertainment and concerts take centre stage. Connected to the REM, this is where you will find tasty food venues, a multitude of healthy restaurants and famous eateries for an incomparable gourmet experience, from morning to evening.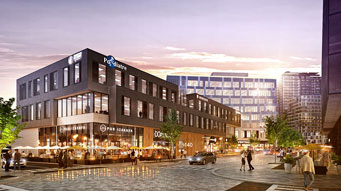 Avenue de l'Équinoxe
and its specialty businesses
Avenue de l'Équinoxe is the ideal pedestrian area for a leisurely stroll and to stock up on fresh, quality products. Its pop-up style establishments, cafés, bakeries, cheese shops and takeout food venues will become your go-to favourites for your weekly grocery shopping, cravings or picnics in Central Park, just a few steps away.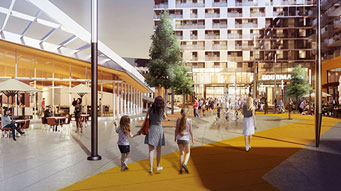 Espace Explora
and its Halle Gourmande
Considered to be ORBEAT's cultural landmark, Espace Explora and its Halle Gourmande invite you to experience a gastronomic journey into the heart of this city's multiculturalism. On site signature restaurants comingle with culinary events, cultural activities, immersive experiences and discoveries of all kinds in gathering spaces that set ORBEAT apart. Poulet Rouge has arrived at Solar Uniquartier and offers an eat-in, takeout or delivery menu through Uber Eats. It's a date for lovers of healthy meals and, of course, grilled chicken!

Leading bank in the Americas, Scotiabank helps customers, their families and their communities achieve success through a broad range of advice, products and services, including personal and commercial banking.

Synonymous with excellence in real estate, RE/MAX Platine brings together experienced brokers with the best tools to offer superior service to their clients.

Celebrated throughout Greater Montreal for its creative and sophisticated cuisine, Les Enfants Terribles offers daring dishes inspired by reinvented Montreal flavours. A renowned address and a culinary experience to be discovered, now also available for take-out!

EMBLM offers integrated solutions, from designing to reorganizing workspaces. It provides support to architects and designers and distributes leading brands of office furniture and accessories. EMBLM has branches across Quebec and is renowned for sharing its prominent expertise with businesses and institutions since 1975.

Renowned as one of the most prominent luxury real estate agencies in the world, Engel & Völkers is the international gateway to the most prestigious properties. With its distinctive and innovative cuisine, its wide selection of local beers, fine wines and spirits, and its relaxed bistro atmosphere, Vertigo is the ideal place for happy hours with friends, business meetings, dinner parties, a festive night out or a romantic dinner. Take-out or delivery orders.

WowMoms World welcomes you in an environment perfectly designed to meet the needs of young families and expectant mothers looking for expert advice. Created by moms for moms, WowMoms World is the ultimate family destination!

Ideal for your conferences and meetings, this trendy 4-star hotel offers spacious rooms, an indoor pool, a gym, a restaurant and more than 9,000 sq. ft. of banquet space. The perfect place for all your major events!

Discover our dedicated advisory point of service, where a multidisciplinary team of experienced advisors, financial planners, private bankers and commercial account managers come together under one roof.

Your destination of choice for yummy bread, pies, pizzas, pastries and sandwiches!
The place for entertainment!
ORBEAT is positioned to become a true entertainment venue, with multiple immersive, interactive and dynamic experiences such as escape, board, virtual reality, arcade games, and more. All you have to do is play! Your turn!
Sustainable in every way
Built on the principles of sustainable development, Solar Uniquartier stands out for its overall design. Its vision includes a peri-urban and ecological agricultural park that will supply fresh food for onsite restaurants. La Tablée des Chefs will also be involved in the management of food surplus and the organization of culinary workshops.
Solar Uniquartier, a spectacular living environment