La Cage – Brasserie sportive now open at Solar Uniquartier!
The meeting place for sports fans and lovers of great food is officially kicking off its inaugural season at Solar Uniquartier, thus becoming the best address in Brossard!
A crowning jewel of Quebec's entrepreneurship and restaurant industry, La Cage – Brasserie sportive serves more than 7 million customers each year in its various establishments across the province. The chain's arrival at Solar Uniquartier has long been awaited, and it is with great enthusiasm that the restaurant officially opened its doors.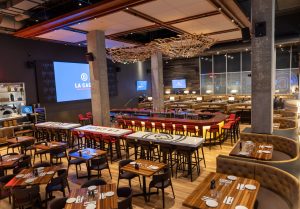 The perfect menu and atmosphere for fans! 
La Cage – Brasserie sportive is renowned for its unique festive atmosphere during sports events such as the Montreal Canadiens hockey games, international boxing matches, UFC events, and football and soccer games, among many others. There's a good reason why La Cage has been THE place to watch sports events since 1984.
While its ambience and dishes perfectly complement sports events, La Cage has nonetheless greatly diversified its menu over the last few years. In addition to the traditional chicken wings, nachos, burgers and ribs, the restaurant now offers meals that highlight freshness and a taste of Quebec. The salmon tartare, poke bowls, and beetroot and goat's cheese salad are good examples. A fresh and authentic culinary offer served in the same legendary atmosphere.
La Cage – Brasserie sportive at Solar Uniquartier, Brossard
La Cage – Brasserie sportive is open 7 days a week, from 11 a.m. You can enjoy your meal in the restaurant's dining room, pick it up to go or have it delivered. La Cage at Solar Uniquartier is located at 2500 De l'Éclipse Street, directly on the first floor of the building connected to the REM, in front of the Place de la Gare. Enjoy the match!
Visit the La Cage – Brasserie sportive website